Rediscover & Revitalize

Resilience within.​ ​
---
One day you finally knew what you had to do & Began...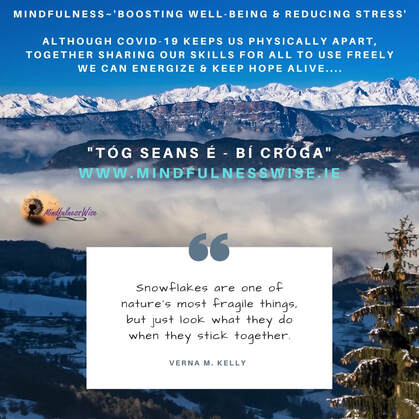 ​www.oneaday.ie/collaborators/mindfulnesswise/ In these unprecedented times of 'social distancing' & 'working remotely' it is vital we use technology to stay connected, to share, to support & to look out for each other as best we can!

So, I have uploaded my 8 wk Mindfulness Based Stress Reduction (MBSR)course as delivered at the Luísne Well-Being Centre.

I hope it may help somewhat to ~Boost Well-Being & Relieve Stress.

Although we remain physically apart, together sharing what we can invites connections & keeps unflinching hope alive. (www.oneaday.ie/)
​
"Tóg seans é - Bí Cróga"

​
Mindfulness is ever present & accessible within each of us.
To me Mindfulness is Life's Olive branch, a Compassion & Resilience reserve kit we can attune to & once we become
wise
to its frequency ~
the POWER of three (mind, heart & body) we cultivate a perceptive skill- one that empowers us to authentically pause, choose, respond & really see... Awakened, Aware & Alive to untapped possibilities.
​
(Yoga mats, poetry & meditative cushions optional)!
Mindfulnesswise@gmail.com /
https://www.facebook.com/mindfulnesswise/